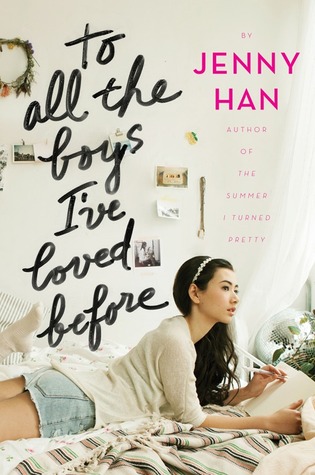 Summary:
To All the Boys I've Loved Before is the story of Lara Jean, who has never openly admitted her crushes, but instead wrote each boy a letter about how she felt, sealed it, and hid it in a box under her bed. But one day Lara Jean discovers that somehow her secret box of letters has been mailed, causing all her crushes from her past to confront her about the letters: her first kiss, the boy from summer camp, even her sister's ex-boyfriend, Josh. As she learns to deal with her past loves face to face, Lara Jean discovers that something good may come out of these letters after all. (from GoodReads)
Review:
This is a book that I immediately wanted to reread as soon as I finished it. I wish I owned a copy of it so I could go back and reread my favorite parts. That's how much I enjoyed To All the Boys I've Loved Before.
This story has so many fantastic elements that made me love it: a wonderful family dynamic, an illicit romance, a fake relationship, multicultural heritage, zany best friends, witty dialogue. The list goes on. The concept is super cute but equally hilarious. How mortifying would it be for all the boys you used to like to find out via love letter. Thankfully Lara Jean handles it fairly well. I would be a mess.
I loved the relationships between Lara Jean and her older and younger sisters. That was really the redeeming factor of this novel. The triangle between Lara Jean, Peter and Josh is also expertly written and not at all clichéd.
Can you tell I really enjoyed this novel? I would definitely recommend anyone to give it a chance. The ending is so frustrating but the fact that there is going to be a sequel makes me so happy! I can't have any of that cliffhanger nonsense.
Rating: 10 out of 10!
FTC: borrowed from the library.
2014/Simon & Schuster/368 pages.