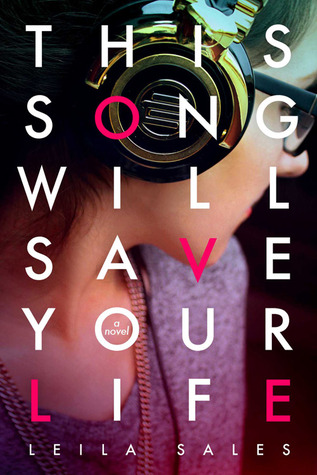 Summary:
Making friends has never been Elise Dembowski's strong suit. All throughout her life, she's been the butt of every joke and the outsider in every conversation. When a final attempt at popularity fails, Elise nearly gives up. Then she stumbles upon a warehouse party where she meets Vicky, a girl in a band who accepts her; Char, a cute, yet mysterious disc jockey; Pippa, a carefree spirit from England; and most importantly, a love for DJing.

Told in a refreshingly genuine and laugh-out-loud funny voice, THIS SONG WILL SAVE YOUR LIFE is an exuberant novel about identity, friendship, and the power of music to bring people together. (from GoodReads)
Review:
I absolutely adore Leila Sales's first two novels, Mostly Good Girls and Past Perfect, so of course I was beyond excited for her latest book. I was slightly disappointed that I didn't enjoy This Song Will Save Your Life as much as I hoped, but it was still a fun read.
I don't expect every book by a favorite author to be stellar because that's just unrealistic. I am a little disappointed that I didn't love this novel as much as the others but I'm ultimately I'm okay with that. This book wasn't quite as funny as Sales's previous books. There are still some humorous moments but that laugh out loud humor is definitely missing. I think that's due to the fact that TSWSYL is definitely more serious. In the beginning of the book, Elise is suicidal and the majority of the story is her overcoming those feelings. I think Sales did a great job of describing Elise's mentality without making it too light or too depressing. The book struck a good balance in my opinion.
While not the focus, TSWSYL deals with bullying and I think it struggles with that aspect. Sometimes it seems like Elise is just supposed to be ignored by her classmates and others I think Sales tries too hard to make it seem like they all hate her (of which there is no reason too). And since it's not the focus, it just pops up randomly in the plot. Elise talks about how she wants to be popular and tries to dress and act so that she can attain this goal. I do like that the story is about finding yourself and doing what you love, regardless of what other people think. That's a very positive message.
I definitely enjoyed reading about the dance club Start and Elise's foray into DJing. I love music so I liked hearing those references and having a playlist at the end of the novel. I'll definitely be checking those out. Elise is a natural talent at DJing but also a bit of a wunderkind. She takes it up and within two weeks she is the hottest thing around which is definitely unrealistic. Elise describes herself as precocious but at times she's more pretentious: she judges her equally unpopular friends and also goes on a rant about the stupidity of pop music. I think it would have been awesome character development for her to recognize that she participates in some of the same actions that she blasts her classmates for doing and tries to change that.
Overall, I found This Song Will Save Your Life to be a fun and light-hearted read. I recommend readers to check this out but not to overlook Sales's previous work which is even better.
Rating: 7 out of 10.
FTC: library
2013/Farrar, Straus & Giroux/279 pages