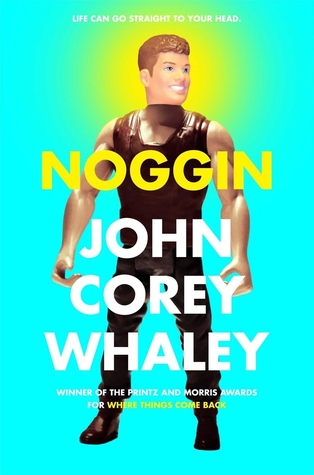 Summary:
Listen — Travis Coates was alive once and then he wasn't.

Now he's alive again.

Simple as that.

The in between part is still a little fuzzy, but he can tell you that, at some point or another, his head got chopped off and shoved into a freezer in Denver, Colorado. Five years later, it was reattached to some other guy's body, and well, here he is. Despite all logic, he's still 16 and everything and everyone around him has changed. That includes his bedroom, his parents, his best friend, and his girlfriend. Or maybe she's not his girlfriend anymore? That's a bit fuzzy too.

Looks like if the new Travis and the old Travis are ever going to find a way to exist together, then there are going to be a few more scars.

Oh well, you only live twice. (from GoodReads)
Review:
This will be a pretty short review. I decided to read
Noggin
because I absolutely adored Whaley's first novel,
Where Things Come Back,
which won the 2012 Printz award.
Noggin
definitely wasn't as good. It was funny, good message, but not the type of book that stays with you, unlike his first novel. I didn't read this book too long ago and I can't even tell you how it ends. I'm still going to check out Whaley's future books but I wonder if they'll compare to his first. I strongly encourage everyone to read
Where Things Come Back
- it was that good.
Rating:
6 out of 10.
FTC:
library
2014/Atheneum/356 pages.