Waiting on Wednesday was started by Jill at
Breaking the Spine
for bloggers and readers to see what new books are going to be released soon.
Rebel Nation by Shaunta Grimes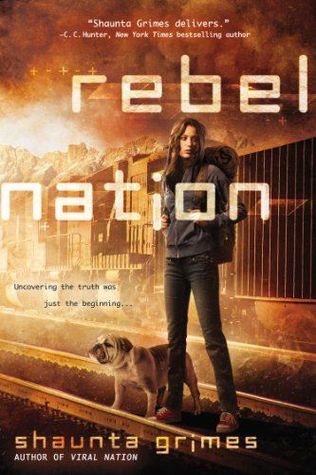 Sixteen years ago, a plague wiped out nearly all of humanity. The Company's vaccine stopped the virus's spread, but society was irrevocably changed. Those remaining live behind impenetrable city walls, taking daily doses of virus suppressant and relying on The Company for continued protection. They don't realize that everything they've been told is a lie…

Clover Donovan didn't set out to start a revolution—quiet, autistic, and brilliant, she's always followed the rules. But that was before they forced her into service for the Time Mariners. Before they condemned her brother to death, compelling him to flee the city to survive. Before she discovered terrifying secrets about The Company.

Clover and the Freaks, her ragtag resistance group, are doing their best to spread the rebellion and stay under The Company's radar. But when their hideout is discovered, they are forced, once again, to run. Only this time, The Company has special plans for Clover, plans that could risk her life and stop the uprising in its tracks…(From GoodReads)
I really liked the first book in this series,
Viral Nation,
so I'm excited to read its sequel!
Rebel Nation
will be released July 1, 2014.