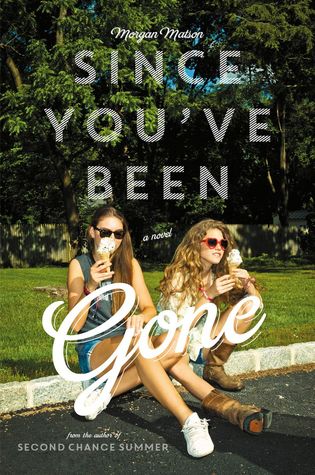 Summary:
The Pre-Sloane Emily didn't go to parties, she barely talked to guys, she didn't do anything crazy. Enter Sloane, social tornado and the best kind of best friend—the one who yanks you out of your shell. But right before what should have been an epic summer, Sloane just... disappears. No note. No calls. No texts. No Sloane. There's just a random to-do list. On it, thirteen Sloane-selected-definitely-bizarre-tasks that Emily would never try... unless they could lead back to her best friend. Apple Picking at Night? Ok, easy enough. Dance until Dawn? Sure. Why not? Kiss a Stranger? Wait... what?

Getting through Sloane's list would mean a lot of firsts. But Emily has this whole unexpected summer ahead of her, and the help of Frank Porter (totally unexpected) to check things off. Who knows what she'll find?

Go Skinny Dipping? Um... (from GoodReads)
Review:Doesn't this book make you think of Kelly Clarkson's hit song with the same title? Surprisingly that song wasn't stuck in my head while I was reading Since You've Been Gone. Anyway, I definitely enjoyed Matson's latest novel but it's definitely not her best work.
The beginning of Since You've Been Gone does what a lot of YA novels do: puts the "best friend" on a pedestal while the protagonist berates herself for not being as pretty/outgoing/funny/spontaneous. Every few seconds Emily would talk about how Sloane would act and what Sloane would say and why Sloane is so much cooler than her. It's exhausting for the reader and also frustrating because I'm reading about Emily. Can you imagine having that train of thought in your head every time you interacted with someone from school? Yikes.
However, as Emily makes new friends and becomes more independent, that reliance on Sloane pretty much disappears, thank goodness. Emily actually has a personality that shines! I did think it was weird how Sloane fell off the grid; it's explained at the end and it kinda makes sense but it's also pretty weird.
Morgan Matson is known for her road trips (see: Amy and Roger's Epic Detour) and even this book has a mini one. But, she needs to stop saying that the license plates in Pennsylvania say "You've Got a Friend in Pennsylvania." I live here and they do not!!! I know they did at one point but I even checked and apparently they were retired in 1999. So this is super annoying because it's clear that she visited here awhile ago and for some reason still thinks it's how it is and puts it in TWO books.
Anyway, I did like this book especially seeing Emily make friends and become more independent. But I would have to say her first two novels are even better so if you liked this one you'll love those.
Rating: 8 out of 10.
FTC: borrowed from the library.
2014/Simon & Schuster/449 pages.