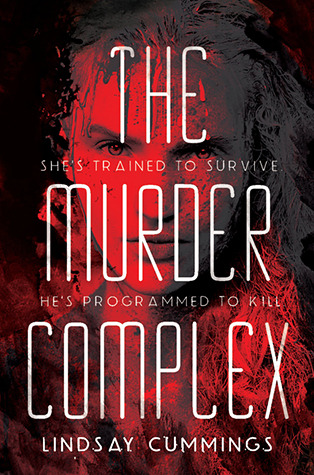 Summary:
An action-packed, blood-soaked, futuristic debut thriller set in a world where the murder rate is higher than the birthrate. For fans of Moira Young's Dust Lands series, La Femme Nikita, and the movie Hanna.

Meadow Woodson, a fifteen-year-old girl who has been trained by her father to fight, to kill, and to survive in any situation, lives with her family on a houseboat in Florida. The state is controlled by The Murder Complex, an organization that tracks the population with precision.

The plot starts to thicken when Meadow meets Zephyr James, who is—although he doesn't know it—one of the MC's programmed assassins. Is their meeting a coincidence? Destiny? Or part of a terrifying strategy? And will Zephyr keep Meadow from discovering the haunting truth about her family?

Action-packed, blood-soaked, and chilling, this is a dark and compelling debut novel by Lindsay Cummings. (from GoodReads)
Review:
I was pretty excited for The Murder Complex but ended up being disappointed in it.
It's funny looking back on my Waiting on Wednesday post for this book and how even back then I said that I didn't know what the "murder complex" was. That confusion continued through the first half of the book in which it was never explained! That was frustrating.
I also didn't like the insta-love between Meadow and Zephyr. It's bad in some books but it was especially bad here. I just don't get the appeal of having two characters literally fall in love after seeing each a few times.
A lot of people on GoodReads say this book is "anti-science" and I guess I would agree if you want to analyze the book but that sentiment isn't explicitly written anywhere.
Honestly, this just wasn't the book for me. I won't be continuing the series.
Rating:
4 out of 10.
FTC:
borrowed from library
2014/Greenwillow Books/398 pages.